PRESS RELEASE
GUATTARI + 30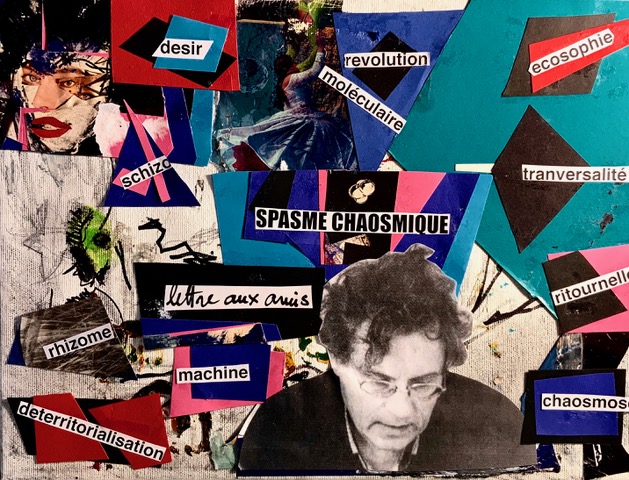 OCTOBER 2022
Onemonthof festivities dedicatedtoes to the thoughtof Félix Guattari
Thirty years afterès passing, Félix Guattari leaves behindèbetween him – and obviously before us – a wealth ofe d'idexperiences and d'expinvaluable experiences, a Tierra del Fuego of'owhere anti-capitalist, feminist, decolonial and eenvironmentalist struggles arise. However, Félix Guattari's work remains little known, beyond the four books written with Gilles Deleuze, he left us numerous essays that inspire, today more than ever, chercheur-ses, co-temporary artists and quantityé d'experimental interventions. But also poems and plays that would not be long in coming to light. During his lifetime, Guattari made a great impression through his "micro-political" activism, starting with that undertaken at the psychiatric clinic of La Borde for nearly forty years, and then alongside all the movements of the moment: indAlgerian independence, the 22 March 1968 movement, women's liberation struggles, gay rights–the–s, free radios, fight against racism, operaraïItalian semia, pioneer defenceère of immigrant people, Brazilian democratisation, ecology… Based on his ability to bring together collectives of "heterogeneous" individuals to bring about new ways of thinking about philosophy, social relations and the world, Félix Guattari preferred to see himself as part of a group rather than as an identity-based individual. "We must get out of the atrocious conflicts of identity", he wrote in 1992. The thinker-activist will be celebratedé throughout October in Paris but also around the world, through numerous events that will give a glimpseçu of its thoughtabundant and the holds that'it has on the meadowsent. These festivities were initiated by the association of friends–e–s of Félix Chaosmosemedia. Presentations of reissued works and new releases at the Fab d'Agnès b, hybrid lectures at Paris 8, screenings, performances, notably by nicolas Frize and other colloquia will address the multiple facets of Guattari's work.
PROGRAM
The overall and ddetailed updated programme will be available by following this link: https://chaosmosemedia.net/2022/04/06/guattari30/
From 6 to 9 October
at the cinéma Nova in Brussels, films, meetings and ciné-conference : " Guattari Chaosmik "with the participation of Barbara Glowczewski, François Pain, Isabelle Stengers
October 15 at 1pm
at the journal fair : ddebate Félix en revues with La revue des revues, Research, Institutions, Chimères, Multitudes, animed by Anne Querrien
On 15 October at 3pm
At the Fab d'Agnès b, Sébastien Raimundi and Lignes Editions present the reprints of Chaosmose, 65 rêves of Kafkae and to la Borde in pocket, and a new book Trialogues, conversations between Felix, Polack and Danielle Sivadon about their clinical practices
From October 15 to November 15
at the New Galerie, rue Borda, F's couchelix, an exhibition of works by his friends : François Pain, Franco Berardi, Jean Jacques Lebel, Sonja Hopf…
On October 16 in the garden of Sainte Anne at 4pm Posted in May 2023
April 2023èmidday in the garden, Guattari +30, musical and philosophical performance by Nicolas Frize
ddebate between philosophers and scientists on Transversalité and hetérogénèse animé by Alessandro Sarti and Franco Berardi (Bifo)
On October 18 at La Parole errante in Montreuil
Lpostedritguattari's clinical posts : analysts and philosophers from France,'England and'Uruguay, ddetail tools of'analysis and premonitory concepts, today of'sure relevance. Moderated by Annick Kouba, Paul Bretécher, Jean Claude Polack.
Colloquium /Rencontres Réalternative to psychiatry : rmulti-expressive encounters, prpresentations, music, videos, collective forums. The International Network of Alternatives to psychiatry today: revival of'an attempt from the late 1970s. Responsible for this project are Susana Calo, François Pain, François Marcelly-Fernandez.
October 19 at 35-37 rue des Francs Bourgeois from 10:00 a.m.to 10:00 p.m.
Hcollateral damage, Festive and musical day hosted by Ramuntcho Matta.
On October 20th colloquium Guattari + 30 at Paris 8
Ppolitical platformresearch room, librarianèuniversity hall: minority politics, politics of rêves, revolution molsecular dissipated in Latin Americ, active in Rojava.
Pthe Ecosophies platformin the'amphi D001. In the dome room Films by Mariana Lacerda ( Guyri and I am a macaw), and Elisa Band ( the confinement of aphasics)
LIENS/CONNECTION LINKS/ZOOM LINKS (one per room)
Salle de la Recherche BU
https://univ-paris8.zoom.us/j/96846689924?pwd=TDc4VklUcjhQTll6SW1Gck0zbXlKZz09
password (if required): 200653.
Maison de la recherche MR002
https://univ-paris8.zoom.us/j/95240557791?pwd=elBDd0dpT0NqNldaSDVwbzRIejV6QT09
On 20 October from 5pm until 8pm
an unaligned action in homage to Félix Guattari organised at Robert Milin's "gardens of the inhabitants" at the Palais de Tokyo will take place
https://chaosmosemedia.net/2022/10/14/une-action-non-alignee-en-hommage-a-felix-guattari-organise-au-jardins-des-habitants-de-robert-milin-au-palais-de-tokyo-aura-lieu-le-20-octobre-a-partir-de-17h-jusqua-20h/
On October 20 from 7pm to 24h, ciné-péGuattarian niche
Canal de l'Ourcq, porte de la Villette with films by Silva Maglioni and Graeme Thomson 'In search of UIQ' about'a film thoughtby Guattari, and Catherine Vallon, ' Un petit peuple qui va', promenade forestière with the'atelier théâtre de la clinique de La Borde
On October 21st in Paris 8
Sresearch room, bibliothèque universitaire the morning l'ère post média, afterèmidday round table testimonies on FFelix to La Borde and political Felix ; l'machine unconscious, la visagéité, la chaosmose in amphitheatre D001. L'cobblestone orchestra, filmsin the dome room or in amphitheatre D001
On 22 October at Paris 8
Sfollowing the Guattari + 30 colloquium, in the Bibliothèque university, Ritournelle (conflecture, performance, music) in the morning, L'ère post media and fascism round-table l'après noon ; amphitheatre of the Maison de la Recherche the machinephylumand some confreferences afternoone: Jean Philippe Antoine, "Ddesire, value, abundance" ; Gary Genosko in zoom; Vladimir Safatle "The function of silence between schizoanalysis and psychoanalysis" Performance by'Enzo Cormanin the dome room at 6pm, films on the Saumery clinic by Sarah Klingemann.
The room of the'EHESS, la Parole errante, the amphi of the Maison de la Recherche, the research room of the university libraryèare équipedfor distance learning. This will allow our friends to follow and'interact from abroad.
22 October, 6pm (duration 55′) Salle de la Coupole, Université de Paris 8 / St Denis
As part of the Journées internationales – Guattari + 30 Enzo Cormann will perform "VITE!" said to be published in March 2022. Click here for more information
In JapanFriends of Guattari are organising two chaosmosemedia days on 20 and 22 October. At the Brésilthese days will take place in Sao Paulo from 22 to 26 November.
Thursday 06 to SUNDAY 09 OCTOBER
GUATTARI CHAOSMIK
at CINÉMA NOVAin Brussels

The detailed program is available by following this link: https://nova-cinema.org/prog/2022/187/guattari-chaosmik/?lang=fr
Saturday 15 October at 3pm
at the Fab Agnès b
Presentation of works
with Lignes Publishing
Trialoguesinterview by Félix Guattari with Danielle Silvadon and Jean-Claude Pollack
Chaosmose, reprint
From Leros to La Borde, reprint
65 rêves of Kafka, reprint
(The review Chimères will publish at the end of 2022/beginning of 2023 an issuero Guattari + 30)
SUNDAY, OCTOBER 16 AT 4 PM
!!!Postponed to May 2023!!
UNE AFTERNOONON THE WAY
MUSICAL AND PHILOSOPHICAL PERFORMANCE BY NICOLAS FRIZE
Simone Veil Garden / CHU Sainte-Anne
1, rue Cabanis 75013 Paris
Free admission upon reservation (duratione 1h15)
https://www.billetweb.fr/felixguattari-nicolasfrize
Metal chairs are arranged along the garden paths
Everyone is seated; readers and musicians walk – each.
They are solitudes and become assemblies;
Passages from Felix's books intertwine psychiatry and approaches to change, Des paroles, des actes, plutôt than concepts, and though…
Among them, iconoclastic vocal and sonic expressions, concreteètes, musical, rolls of sound.
The composition, in constant evolution, is constructed by the'listener. It'is he who brings together, who associates.
Everything is in motion.
The'future is taking shape.
The march is endless.
The pensdance, the sounds'emboil, and silence slips in delicately, without ever falling silent.
This'is a happiness that in results.A restless peace that builds.
Contact – Denis Moreau – 01 48 20 12 50 – denis.moreau@lesmusiquesdelaboulangere.net
Tuesday 18 OCTOBER
Dayofstudies on the "CLINICAL POST-TERRORISM"of Félix Guattari
LA PAROLE ERRANTE in Montreuil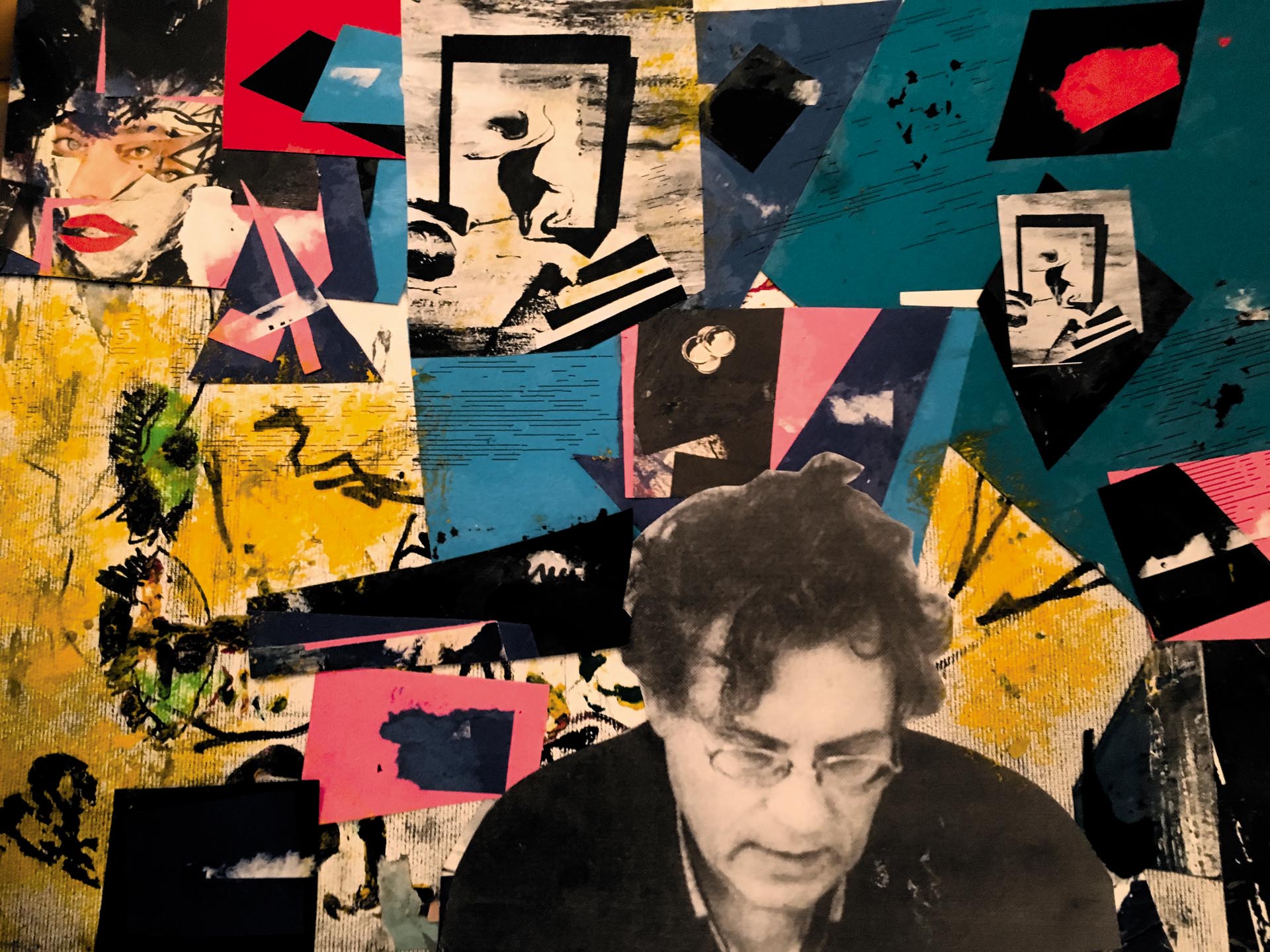 The detailed program is available by following this link:
https://laparoleerrantedemain.org/index.php/2022/09/17/posterite-clinique-de-felix-guattari/
We wanted, in the context of these anniversaries, to repair what we would call a misunderstanding, not to say an injustice, and to highlight what'it has, in a wayèoften premonitory, proposed as concepts, as tools of'analysis, which seem to us today to'have a welcome relevance. In this day, clinicians and/or philosophers, from France, from'England, from'Uruguay en twill testify.
Wednesday 19 OCTOBER
COLLOQUE/RENCONTRE
at Censier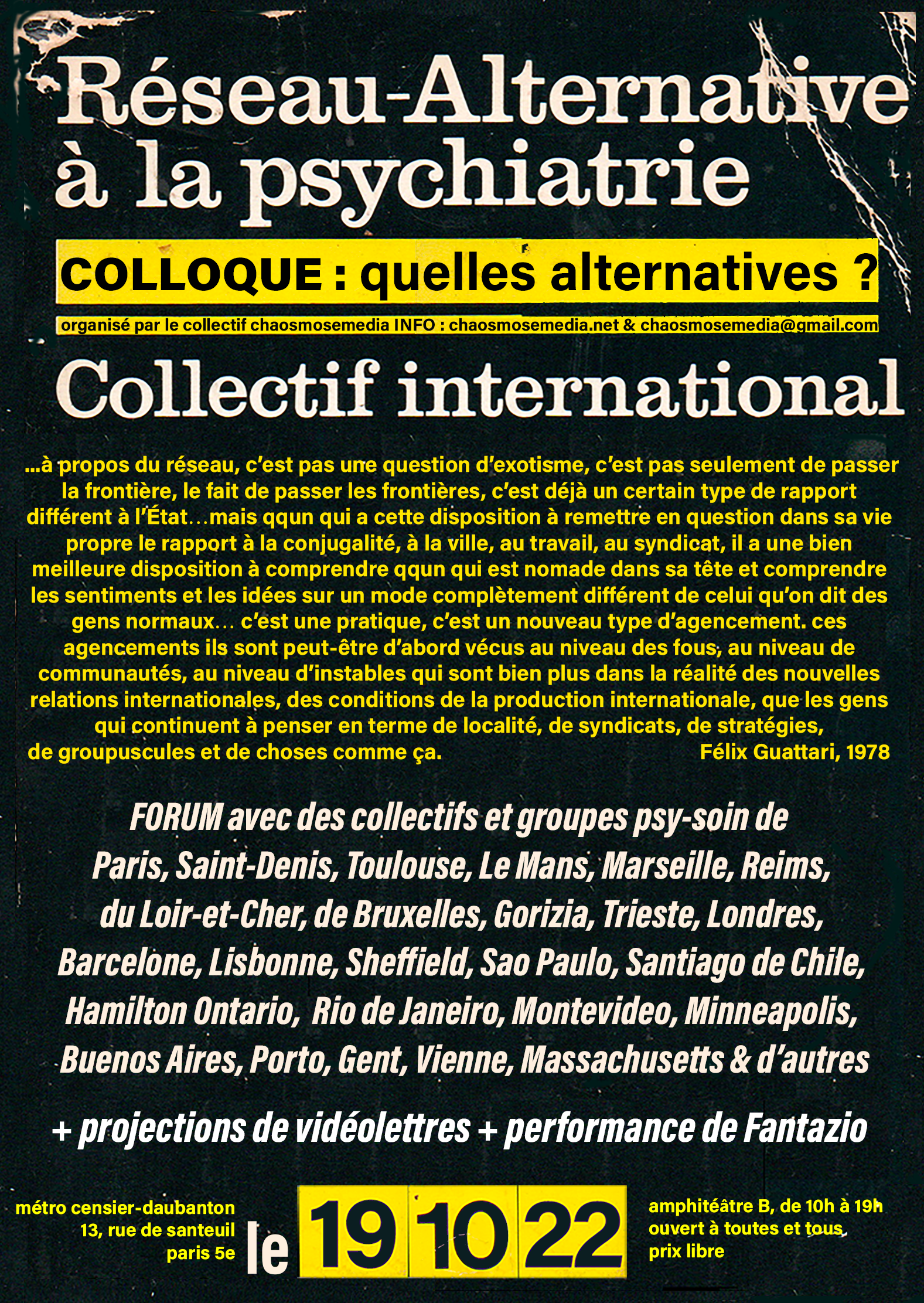 The detailed program is available by following this link: https://chaosmosemedia.net/2022/10/12/colloque-rencontres-reseau-alternative-a-la-psychiatrie-le-19-octobre-a-censier-de-10h-a20h/
From THURSDAY 20 to SATURDAY 22 OCTOBRE
International Days at Paris 8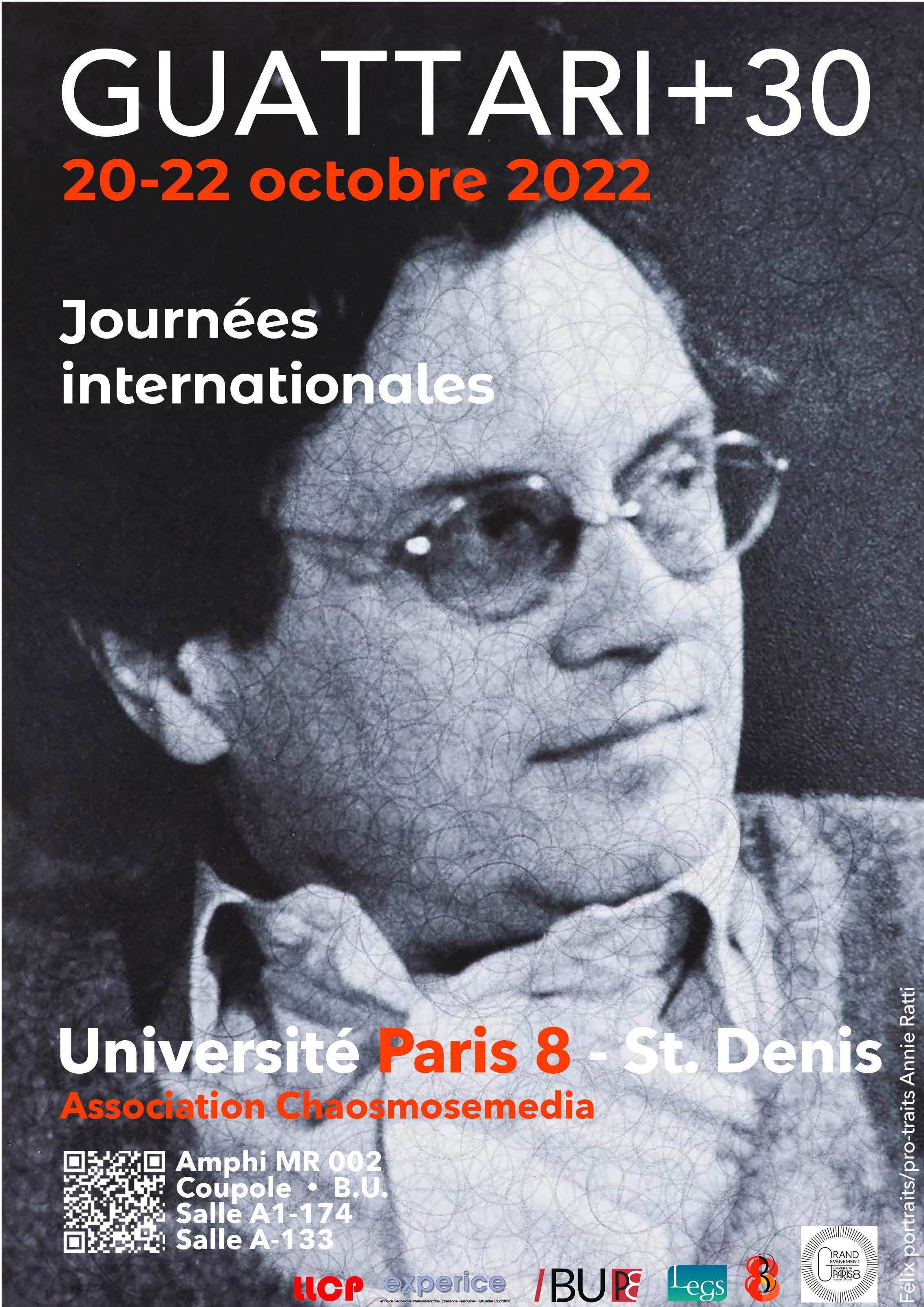 The detailed program is available by following this link: https://chaosmosemedia.net/2022/10/11/colloque-guattari-30-a-paris-8-20-22-octobre-2022/
Félix Guattari died at the end of August 1992, a few months afterès publication of his last work Chaosmose, whose last chapter, "Pour une refondation des pratiques sociales " appeared in October 1992 in Le Monde diplomatique. The'whole of his work constitutes a radical critique of the maniere in which the social sciences, and in particular psychoanalysis, render impotent–e–s in the face of the transformations of the world. By his friendly and decisive presence at the cearlys of all the movements of the moment, he affirmed resolutely that new paths could befound for transformative passions. He proposed to the'universityé and throughout societyté to mobilize new collective and/or "whatever subjectivities", new relationships between body movements, territories, aesthetics and ethics.
L'association Chaosmosemedia, l'Université de Paris 8 (Laboratoires ESTCA, EXPERICE, UMR-LEGS, LLCP and MusiDanse) and the Collège International de philosophie are co-organising three days of cross-disciplinary meetings (philosophy, education sciences, gender, music/dance, cinema/art), and between practitioners–ne–s and clinicians–ne–s in mental health, activists, teacher–e–s and student–e–, around'investments of desire that Guattari's work and social practice allow. How to map a subjectivity that is not yet the'to to ? How to articulate new relationships of flows, machines,'incorporate universes and territories, in the context of war in Europe and derèclimate regulation? How to circumvent the resurgence of micro/macro fascisms in the large-scale subjective transformations that such a context provokes?